World Car News #Update
Car enthusiasts and experts have named the 2018 Toyota Camry a near perfect car which has continued to gather a staggering fan base across the globe. True, no car is perfect but the Camry's impressive performance has not let its drivers down. Although there was a recall of 41,630 Camry cars in 2016, there has not been a diminishing in the love for this model which has been tagged America's most beloved sedan. The Camry is not only loved in America but has also been Africa and most especially Nigeria's sweetheart car. Called nicknames like the Muscle, Envelope, Big Daddy and Pencil, it has wormed its way into the heart of almost every Nigerian because of its durability, reliability and ruggedness.
With the 2018 model, it gets better as hardly any negative remarks have been pointed towards it. This Camry comes with active safety features, which are only available in higher trims of its competitors. All of 2018 Camry models have a rear view camera, adaptive cruise control, lane departure alert, and much more. The 2018 Camry is easily the favorite among practical buyers. It boasts of impressive fuel economy for a vehicle this type and size. The gas model has EPA rating of 29 mpg for city and 41 mpg highway. The latest Camry is responsive, agile and fun to drive altogether. The Camry's V6 engine is responsible for such admirable performance.
This is an additional feather in the hat for Japanese car makers- Toyota and another mind assuring fact for everyone looking forward to buying the 2018 Toyota Camry model.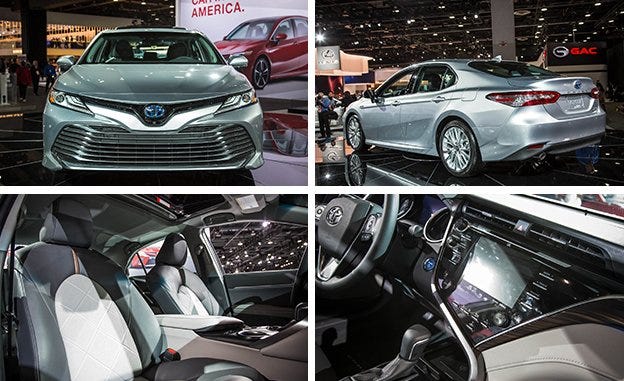 Supporting articles:
http://www.autoworldnews.com/articles/39105/20170812/2018-toyota-camry-perfect-hardly-negatives.htm
https://www.google.com.ng/search?q=images+for+2018+toyota+camry&rlz=1C1GCEA_enNG772NG772&source=lnms&tbm=isch&sa=X&ved=0a